Online Dental Education Library
A periodontist who specializes in the diagnosis and treatment of problems that affect the gums and other supporting tissues of the teeth. If you want to keep your teeth for life — a completely reasonable goal in this day and age — you need to make sure the tissues that surround them are also healthy. Should gum problems arise, you may need periodontal therapy to restore diseased tissues to health. Learn more about Periodontal Disease & Therapy.
Treatment of Gum Disease
Treating gum disease starts with the removal of any plaque and hardened deposits (tartar or calculus) on the tooth root surfaces. This may be followed by other non-surgical treatments and/or periodontal surgery to remove diseased tissue and restore your mouth to the best possible health.
Implant Dentistry
If you are missing one or more teeth, dental implants offer the comfort and security of a permanent replacement that looks and functions just like your natural teeth. Dental implants also help preserve the tooth-supporting bone in your jaw that deteriorates when even one tooth is lost.
Cosmetic Gum Surgery
The gum tissue that surrounds and supports your teeth plays a big role in how appealing your smile will look. Excess gum tissue, gum recession, and an uneven gum line are all problems that can often be successfully treated surgically at the dental office. Learn more about Cosmetic Gum Surgery.
Gum Grafting
If gum recession is affecting your health or your appearance, a routine surgical procedure called gum grafting may help. It involves carefully placing a small amount of new tissue in an area where little or no gum tissue currently exists — typically recommended to prevent further gum recession or to help cover tooth root surfaces that have become exposed. Learn more about Gum Grafting.
Tooth Extractions
There are times when it is in your best interest to have a tooth extracted (removed). This could be the case for a variety of reasons, including: damage or trauma to the tooth; extensive gum disease; extensive tooth decay; or overcrowding. Learn more about Tooth Extractions.
Bone Grafting
Bone grafting, a minor in-office surgical procedure, is commonly used in dentistry to correct deficiencies in bone quantity and to build support for teeth or dental implants. Learn more about Bone Grafting.
Sedation Options
We offer a wide array of sedation options for our patients. We want you to be comfortable for every procedure and are fully Licensed to offer you Nitrous Oxide sedation ( laughing gas), Oral sedation, IV sedation and General Anesthesia. Learn more about Anesthesia
Whether you are missing one tooth, multiple teeth or all your teeth, dental implants can restore your smile. When replacing more than one tooth with dental implants, you don't even need one implant for every missing tooth. That's because implants can support bridgework or a fixed denture. This means a full row of teeth (top or bottom) can be anchored by as few as four implants. And as few as two implants can be used to stabilize a lower removable denture. Implants can be used to:
Replace One Tooth — When you have one tooth missing, a single implant is inserted into the bone to replace the root part of that tooth; a crown then goes on top to simulate an actual tooth. This treatment choice has the highest success rate, making it the best long-term investment for replacing a single missing tooth. Even if the initial cost is slightly higher than other options, it is the most cost-effective solution over time. An implant will never decay or need root canal treatment, and feels just like the tooth that was there. Learn more about replacing one tooth with a dental implant.
Replace Multiple Teeth — When you have more than one tooth missing, implants provide an ideal replacement mechanism. For example, if you are missing three teeth in a row, a 3-unit fixed bridge can be created. This consists of two implants, one on either side of the gap, and a crown in between that has no implant underneath. That way, you won't need to use any of your remaining natural teeth as bridge supports, which could weaken them and make them more susceptible to decay. Learn more about replacing multiple teeth with dental implants.
Replace All Teeth — Implants can anchor a removable full denture to keep it from slipping or, better yet, an entire arch of upper or lower replacement teeth that are fixed into the mouth and are never removed. These teeth can take the form of fixed bridgework, which is a full set of replacement dental crowns; or a fixed denture, which contains crowns as well as realistic-looking prosthetic (replacement) gum tissue. Sometimes a new arch of teeth can be supported by as few as 4 implants. It's comparable to the structure of a table, which only needs 4 legs to hold it up. In cases where jawbone density and volume have deteriorated, 5 or 6 implants might be needed to support a row of 10 to 12 teeth. Dental implant replacement teeth protect your jawbone, won't slip, and should last a lifetime. Learn more about replacing all teeth with dental implants.
Related Articles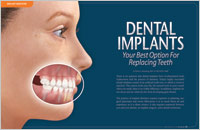 Dental Implants – Your Best Option For Replacing Teeth Dental implants have many advantages over older methods of tooth replacement like bridges and dentures — from the way they function and feel to the way they look and last. Vigorous research has documented and confirmed that in the right situations, dental implant success rates are over 95%. It is no exaggeration to say that they have revolutionized dentistry. They may even change your life... Read Article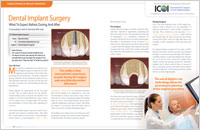 Dental Implant Surgery Many people are surprised at how relatively easy dental implant surgery is because they let their imaginations get the better of them before they go through the actual procedure. The reality is that most patients experience no pain during the surgery and very little discomfort afterward. Let's back up and start with the basics to increase your understanding and allay any apprehension... Read Article