Online Dental Education Library
A periodontist who specializes in the diagnosis and treatment of problems that affect the gums and other supporting tissues of the teeth. If you want to keep your teeth for life — a completely reasonable goal in this day and age — you need to make sure the tissues that surround them are also healthy. Should gum problems arise, you may need periodontal therapy to restore diseased tissues to health. Learn more about Periodontal Disease & Therapy.
Treatment of Gum Disease
Treating gum disease starts with the removal of any plaque and hardened deposits (tartar or calculus) on the tooth root surfaces. This may be followed by other non-surgical treatments and/or periodontal surgery to remove diseased tissue and restore your mouth to the best possible health.
Implant Dentistry
If you are missing one or more teeth, dental implants offer the comfort and security of a permanent replacement that looks and functions just like your natural teeth. Dental implants also help preserve the tooth-supporting bone in your jaw that deteriorates when even one tooth is lost.
Cosmetic Gum Surgery
The gum tissue that surrounds and supports your teeth plays a big role in how appealing your smile will look. Excess gum tissue, gum recession, and an uneven gum line are all problems that can often be successfully treated surgically at the dental office. Learn more about Cosmetic Gum Surgery.
Gum Grafting
If gum recession is affecting your health or your appearance, a routine surgical procedure called gum grafting may help. It involves carefully placing a small amount of new tissue in an area where little or no gum tissue currently exists — typically recommended to prevent further gum recession or to help cover tooth root surfaces that have become exposed. Learn more about Gum Grafting.
Tooth Extractions
There are times when it is in your best interest to have a tooth extracted (removed). This could be the case for a variety of reasons, including: damage or trauma to the tooth; extensive gum disease; extensive tooth decay; or overcrowding. Learn more about Tooth Extractions.
Bone Grafting
Bone grafting, a minor in-office surgical procedure, is commonly used in dentistry to correct deficiencies in bone quantity and to build support for teeth or dental implants. Learn more about Bone Grafting.
Sedation Options
We offer a wide array of sedation options for our patients. We want you to be comfortable for every procedure and are fully Licensed to offer you Nitrous Oxide sedation ( laughing gas), Oral sedation, IV sedation and General Anesthesia. Learn more about Anesthesia
What is bone grafting?
Bone grafting is a minor surgical procedure performed in the dental office under local anesthesia to rebuild bone in areas where it has been lost. Grafting material can be placed into a tooth socket as soon as a tooth is extracted, or in an area where a tooth has been missing for some time. Your body will then grow new bone cells, replacing this graft material over the next several months.
Why would I need this procedure before getting a dental implant?
A dental implant should last a lifetime. In order to do so, however, it needs to fuse securely to your jawbone. If you have insufficient bone volume there, your chance for success with dental implants won't be as high as it should be. Why would this happen? Bone quality and quantity almost always deteriorate when a tooth is lost, though you may not notice this is happening. Sometimes, by the time a person decides to have an implant placed, there may not be adequate bone left to ensure success. That's why we often need to place a graft first. That's also the reason you should replace a tooth as soon as possible and why many dentists recommend placing a bone graft at the time of extraction (View Step by Step Example).
Where does the grafting material come from?
It can come from a variety of sources, including your own body. These days, however, laboratory-processed bone from a human or animal donor (usually a cow), as well as synthetic materials, are frequently used.
Is it safe?
There are no safety concerns with grafting material that come from your own body. However, this method does have a disadvantage in that it involves creating a second surgical site — the place from which the bone is obtained. Mineral bone substitutes, whether they are coming from human donor bone or animal bone, pose little risk of infectious disease transmission as they undergo meticulous safety screening. Both have a similar level of risk, due to the extensive and rigorous processing the material undergoes at the highly reputable tissue banks used. This results in graft materials that have proven to be extremely safe. Also, you may be interested to know that mineral graft materials do not remain in the body but are naturally absorbed and replaced by your own bone over time.
Does the procedure hurt?
Bone grafting involves a small incision in the gum to gain access to the bone beneath it. Therefore, you may experience some post-operative soreness. Most people find this can be managed with ice packs applied to the jaw and over-the-counter anti-inflammatory medication and/or pain relievers.
How long does it take to heal?
You should feel back to normal in a day or two. But at this point the bone-regeneration process will have only just begun. Over the next several months your body will continue to deposit new bone cells and remove the grafting material.
Can my body reject the graft?
No, because it does not contain any genetically coded or living material — only minerals. The sole issue is how much bone your body will make in response to the graft. If the appropriate level has not been achieved by the time the graft has healed, more grafting material can be added at the same time the implant is placed.
Related Articles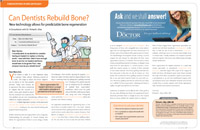 Can Dentists Rebuild Bone? Yes they can! It is very important to maintain bone volume following removal of a tooth so that dental implants remain a viable option for tooth replacement. This is easily accomplished with today's routine bone-grafting techniques... Read Article