Online Dental Education Library
A periodontist who specializes in the diagnosis and treatment of problems that affect the gums and other supporting tissues of the teeth. If you want to keep your teeth for life — a completely reasonable goal in this day and age — you need to make sure the tissues that surround them are also healthy. Should gum problems arise, you may need periodontal therapy to restore diseased tissues to health. Learn more about Periodontal Disease & Therapy.
Treatment of Gum Disease
Treating gum disease starts with the removal of any plaque and hardened deposits (tartar or calculus) on the tooth root surfaces. This may be followed by other non-surgical treatments and/or periodontal surgery to remove diseased tissue and restore your mouth to the best possible health.
Implant Dentistry
If you are missing one or more teeth, dental implants offer the comfort and security of a permanent replacement that looks and functions just like your natural teeth. Dental implants also help preserve the tooth-supporting bone in your jaw that deteriorates when even one tooth is lost.
Cosmetic Gum Surgery
The gum tissue that surrounds and supports your teeth plays a big role in how appealing your smile will look. Excess gum tissue, gum recession, and an uneven gum line are all problems that can often be successfully treated surgically at the dental office. Learn more about Cosmetic Gum Surgery.
Gum Grafting
If gum recession is affecting your health or your appearance, a routine surgical procedure called gum grafting may help. It involves carefully placing a small amount of new tissue in an area where little or no gum tissue currently exists — typically recommended to prevent further gum recession or to help cover tooth root surfaces that have become exposed. Learn more about Gum Grafting.
Tooth Extractions
There are times when it is in your best interest to have a tooth extracted (removed). This could be the case for a variety of reasons, including: damage or trauma to the tooth; extensive gum disease; extensive tooth decay; or overcrowding. Learn more about Tooth Extractions.
Bone Grafting
Bone grafting, a minor in-office surgical procedure, is commonly used in dentistry to correct deficiencies in bone quantity and to build support for teeth or dental implants. Learn more about Bone Grafting.
Sedation Options
We offer a wide array of sedation options for our patients. We want you to be comfortable for every procedure and are fully Licensed to offer you Nitrous Oxide sedation ( laughing gas), Oral sedation, IV sedation and General Anesthesia. Learn more about Anesthesia
Imagine this: An implant surgeon is performing a thorough examination of your mouth. The surgeon rotates your jaw from side to side and up and down, looking for the optimal sites in which to place dental implants — and the proper size, shape and orientation for the implants to have. He or she may test several alternatives, considering the underlying anatomical structures, and the bone density and quality that the examination reveals. Finally, a surgical plan is developed: This includes a set of precise specifications for implant position, size and depth, and a template for creating a perfectly fitting set of replacement teeth. But no invasive procedures of any type have been performed so far. In fact, you aren't even present.
Welcome to the world of computer-guided dental implant surgery. What we have described is one step in the process that allows you to receive a set of replacement teeth with the minimum amount of surgery (and time spent in the dental chair), and the maximum level of preplanning foresight. It can result in faster overall treatment time, less discomfort, and an outcome that pleases everyone. Let's look a little more closely at the entire process of computer-guided implant surgery — a procedure at the forefront of dental implant technology.
The First Phase: Making A Virtual Model
It all begins with a complete examination and modeling of your existing teeth, gum and jaw structures. In many cases, a physical impression (replica) of the jaws is made, which will aid in planning the location of the new teeth. But the modeling doesn't stop there: A high-tech, three-dimensional CT (computed tomography) scan is also performed. This allows us to examine the structures (including bone, nerve tissue and sinus cavities) which lie inside the jaw. It is often accomplished using "cone-beam" CT technology, in which the scanning device quickly captures a complete digital image of internal structures as it rotates around your head.
The next step of the process relies on powerful computers and sophisticated software to take the raw CT scan data and translate it into a 3-D model of the jaw. This virtual model can be manipulated on a computer screen — rotated, measured, even "operated" on — so that we can visualize the placement of dental implants and determine their optimum position with a high degree of accuracy. Using this technology, it's now possible for us to evaluate anatomical structures virtually — structures it once would have taken surgery to reveal — and to plan out the implant procedure accordingly.
The 3-D model we have developed is then used for two purposes: to create a precise guide for the implant surgery, and to allow the dental laboratory to pre-manufacture a set of replacement teeth that will fit precisely in the jaw. An advanced set of CAD/CAM (computer aided design/manufacture) processes is used to generate the physical objects — in this case, the surgical guide and the prosthetic teeth. Depending on your individual situation, the new teeth may be attached the same day as implant surgery, or after a healing period of 6 to 12 weeks. In either case, our precision modeling ensures that they will fit perfectly with the implants and the jaw.
Implant Surgery: Following the Plan
The implant surgery itself is typically performed under local anesthesia, and often requires no sutures (stitches). In the surgical procedure, the template we have produced (which resembles a nightguard or athletic mouthguard) is securely (but temporarily) fixed in position on the jaw. The openings in this template form precise guides for the placement of the implants — accurate in terms of position, width and depth. In fact, the implants fit so perfectly into these prepared sites that we can have new teeth placed the same day as implant surgery.
Since so many of the details have been accomplished in the planning stages, computer-guided implant surgery is typically uneventful for the patient. It can result in shorter time in the chair, less discomfort during recovery — and a highly pleasing result. It has even been called the most significant innovation in implant technology since osseointegration — the fundamental process by which a dental implant becomes fused with the bone.
Related Articles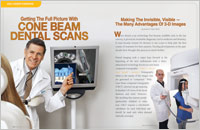 Getting The Full Picture With Cone Beam Dental Scans Dental imaging took a major leap forward at the beginning of the new millennium with a three-dimensional technology known as cone beam computed tomography (CBCT). The name comes from the cone-shaped beam of x-rays the CBCT machine projects as it rotates around a person's head, taking multiple images that are compiled into a 3-D picture by a computer. Find out what CBCT can reveal and how it helps a doctor to make a highly informed diagnosis and choice of treatment... Read Article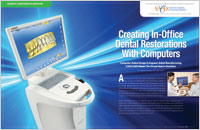 Creating In-Office Dental Restorations With Computers Once upon a time, dentists — and patients — needed to wait weeks for a dental laboratory to make crowns and other dental restorations. Now, with an exciting digital technology known as Computer-Aided Design/Computer-Aided Manufacturing (CAD/CAM), some dentists are fabricating high-quality restorations themselves right in their own offices — in minutes... Read Article