Online Dental Education Library
A periodontist who specializes in the diagnosis and treatment of problems that affect the gums and other supporting tissues of the teeth. If you want to keep your teeth for life — a completely reasonable goal in this day and age — you need to make sure the tissues that surround them are also healthy. Should gum problems arise, you may need periodontal therapy to restore diseased tissues to health. Learn more about Periodontal Disease & Therapy.
Treatment of Gum Disease
Treating gum disease starts with the removal of any plaque and hardened deposits (tartar or calculus) on the tooth root surfaces. This may be followed by other non-surgical treatments and/or periodontal surgery to remove diseased tissue and restore your mouth to the best possible health.
Implant Dentistry
If you are missing one or more teeth, dental implants offer the comfort and security of a permanent replacement that looks and functions just like your natural teeth. Dental implants also help preserve the tooth-supporting bone in your jaw that deteriorates when even one tooth is lost.
Cosmetic Gum Surgery
The gum tissue that surrounds and supports your teeth plays a big role in how appealing your smile will look. Excess gum tissue, gum recession, and an uneven gum line are all problems that can often be successfully treated surgically at the dental office. Learn more about Cosmetic Gum Surgery.
Gum Grafting
If gum recession is affecting your health or your appearance, a routine surgical procedure called gum grafting may help. It involves carefully placing a small amount of new tissue in an area where little or no gum tissue currently exists — typically recommended to prevent further gum recession or to help cover tooth root surfaces that have become exposed. Learn more about Gum Grafting.
Tooth Extractions
There are times when it is in your best interest to have a tooth extracted (removed). This could be the case for a variety of reasons, including: damage or trauma to the tooth; extensive gum disease; extensive tooth decay; or overcrowding. Learn more about Tooth Extractions.
Bone Grafting
Bone grafting, a minor in-office surgical procedure, is commonly used in dentistry to correct deficiencies in bone quantity and to build support for teeth or dental implants. Learn more about Bone Grafting.
Sedation Options
We offer a wide array of sedation options for our patients. We want you to be comfortable for every procedure and are fully Licensed to offer you Nitrous Oxide sedation ( laughing gas), Oral sedation, IV sedation and General Anesthesia. Learn more about Anesthesia
If you're missing a tooth, you're in good company: Some 70% of the U.S. population is also missing at least one, usually a back tooth (molar). Adult teeth are often lost due to decay, gum disease, failed root canal therapy, or fracture — particularly if they have already been heavily restored with fillings or crowns. When it comes to replacing a lost tooth (or even two or three adjacent teeth) there are generally two treatment options available: the old standby, fixed bridgework; or the modern, high-tech solution, dental implants.
While either one can offer an aesthetically pleasing and functional replacement, there are some important differences between the two methods of treatment. To help you decide which one is right for you, let's take a closer look at each technology.
A Bit of Dental History
Although an early type of dental bridge was used by the Etruscans around 700 BC, the modern bridge (also called a fixed partial denture) first became available in the early 20th century. The part which replaces missing teeth, called a "pontic" (French for bridge), is fixed in place by attachment to adjacent, healthy teeth, called "abutments." The pontic is made to resemble a row of natural teeth joined together; how many teeth it will consist of depends on how many are missing.
For example, if just one tooth is gone, a three-unit fixed bridge will be needed. This consists of a replacement for the missing tooth (the pontic), plus a crown for each of the two teeth adjacent to the gap. If more teeth are missing, more units would be required in the bridge. A seven-unit bridge might be needed for three missing teeth; this would consist of three replacement teeth, plus four crowned abutment teeth — two on each side of the gap — to handle the extra stresses.
Caution: Failing Bridge
The crowns fit over the tops of the abutment teeth, which must be prepared (re-shaped by the removal of tooth structure) to receive them — and therein lies a problem. In order to securely attach the crowns, the enamel (and some dentin) must be removed from the abutment teeth. This renders these otherwise healthy teeth more susceptible to decay; it may also necessitate root canal treatment. Additionally, if existing crowns are present, they will have to be removed and redone.
The potential problems don't end when a bridge is in place. Because of the way bridgework "sits" below the gums, there is an increased potential for gum disease in the area. Plus, because a bridge requires that two teeth do the work of three (or more), the forces at work in the mouth generally cause the system to fail over time. Ten years is considered a good lifespan for a well-cared-for bridge.
The Modern Standard: Dental Implants
Beginning in the late 1970s, dental implants became available in the United States. This remarkable system for tooth replacement relies on the osteophilic (bone-loving) properties of titanium, the metal from which the below-gum part of the implant tooth is made. Placed directly into the bone of the jaw, an implant fuses with the living bone tissue, making it sturdy and long-lasting. The lifelike crown on top makes it virtually indistinguishable from the natural teeth.
If you have one missing tooth, you need just one implant — healthy adjacent teeth aren't affected. A greater number of lost teeth can often be replaced by a smaller number of implants, with no need to compromise the teeth nearby. Plus, while the chance of tooth decay is eliminated, the potential for gum disease isn't increased. In fact, with normal brushing and flossing, a dental implant can last a lifetime.
Implants generally cost more than bridgework initially — but they have been shown to be the most cost-effective long-term option. They also have other advantages, including one that no other tooth replacement system offers: the ability to stop the loss of bone, which invariably occurs after tooth loss. So when you're weighing your tooth-replacement options, it pays to consider the long-term value of dental implants.
Related Articles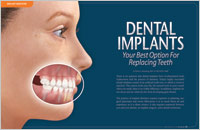 Dental Implants – Your Best Option For Replacing Teeth Dental implants have many advantages over older methods of tooth replacement like bridges and dentures — from the way they function and feel to the way they look and last. Vigorous research has documented and confirmed that in the right situations, dental implant success rates are over 95%. It is no exaggeration to say that they have revolutionized dentistry. They may even change your life... Read Article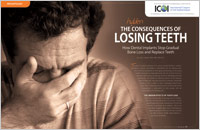 The Hidden Consequences of Losing Teeth For those missing even one tooth, an unsightly gap is actually the least significant problem. What's of far greater concern is the bone loss that inevitably follows tooth loss. Dental implants can preserve bone, improve function and enhance psychological well-being. Learn how implants serve both as anchors to support replacement teeth and preserve bone... Read Article